Do you want to go to Sedona, Arizona, for a trip you'll never forget? Stop looking! Sedona has a lot of fun things to do that won't break the bank and will leave you in awe of its natural beauty. In this piece, we'll show you a list of free things to do in Sedona that will make sure you have a memorable trip without breaking the bank.
Free Things to Do in Sedona
1. Explore the Majestic Red Rock State Park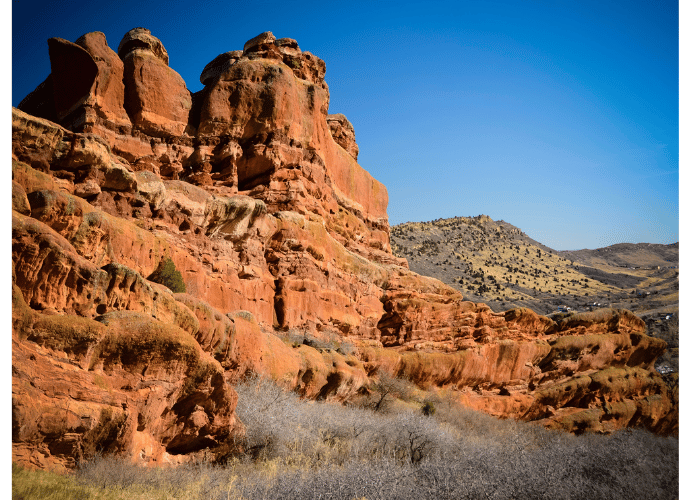 At Red Rock State Park, you can see how beautiful Sedona's famous red rocks are. Take a walk on one of its many trails and enjoy the peaceful surroundings. Look at the beautiful views and take shots that would look good on Instagram. The park also has organized nature walks that teach people about the unique plants and animals of the area.
2. Wander Through the Tlaquepaque Arts and Crafts Village
At the Tlaquepaque Arts and Crafts Village, you can step into a world of art and culture. Walk along its cobblestone streets, which are lined with shops, galleries, and workshops. You can look at drawings, sculptures, and jewelry made by local artists. Take in the lively atmosphere and maybe find something unique to remind you of your trip.
3. Discover the Beauty of Bell Rock and Cathedral Rock
Take a scenic drive to see the amazing shapes of Bell Rock and Cathedral Rock. These famous sites have amazing views and are great for people who like to take pictures. Enjoy a relaxing picnic in the woods or a quiet time of thought in the quiet of these magnificent formations.
4. Immerse Yourself in the History of Sedona at Sedona Heritage Museum
At the Sedona Heritage Museum, you can learn about the city's long and interesting past. Find out about the area's Native American roots, its pioneer past, and the stories of the first people who lived there. The museum has many interesting displays, items, and photos that will take you back in time. The museum is free to get into, but gifts are welcome.
5. Take a Relaxing Stroll in Slide Rock State Park
Slide Rock State Park is a great place to cool off and have fun with water. You have to pay to swim in the natural water slide, but you don't have to pay anything to enjoy the beauty of the park. Walk slowly along Oak Creek, put your feet in the cool water, and enjoy the peace of nature.
6. Capture the Magnificence of Chapel of the Holy Cross
Visit the famous Chapel of the Holy Cross, a spiritual haven set in the red rocks of Sedona. This architectural masterpiece has a peaceful environment and a wide view. Take a moment to think and enjoy this place's spiritual atmosphere. The chapel is free to visit, but gifts are always welcome.
7. Attend the Sedona Community Farmers Market
At the Sedona Community Farmers Market, you can give your senses a treat. Explore the colorful stands that sell fresh food, handmade goods, and tasty treats. Talk to the friendly sellers and you'll get a sense of what Sedona is all about. The market is only open on certain days, so make sure to check the plan before you go.
8. Get Inspired at Sedona's First Friday Art Walk
If you're in Sedona on the first Friday of the month, you should definitely go to the First Friday Art Walk. Walk through the town's art area, where galleries show off beautiful works of art. Talk to artists, watch them work in real time, and enjoy the lively art scene that makes Sedona what it is.
9. Hike the Scenic Trails of Coconino National Forest
Get in touch with your adventurous side and go hiking through the beautiful Coconino National Forest. With so many trails to choose from, you can see all of Sedona's different scenery. From the famous Cathedral Rock Trail to the beautiful Boynton Canyon Trail, each hike gives you a chance to connect with nature and see something new. Put on your climbing boots, pack some snacks, and get ready for a once-in-a-lifetime adventure in the great outdoors.
10. Marvel at the Mystic Energy of the Vortexes
People think that the vortexes in Sedona are places of psychic energy. You can pay to go on a guided tour of a vortex, but you don't have to if you don't want to. You can still enjoy the mysterious appeal of these natural energy spots on your own. Visit famous vortex sites like Bell Rock, Airport Mesa, or Cathedral Rock. Take a moment to soak up the peaceful atmosphere, relax, or just enjoy the beautiful scenery.
11. Enjoy a Picnic at Crescent Moon Picnic Area
Crescent Moon Picnic Area is a peaceful place to get away from the city's noise and stress. This beautiful spot is on the banks of Oak Creek and has picnic tables, grilling grills, and trees for shade. Bring a tasty lunch, sit by the water, and enjoy the peaceful atmosphere. Take a break and cool off in the creek or by dipping your toes in the water.
12. Capture the Sunset at Airport Mesa
Make your way to Airport Mesa to see the beautiful sunset over Sedona for a fascinating time. From this viewing point, you can see the red rocks and blue sky all around you. Bring your camera and take pictures of the beautiful colors as the sun goes down. You won't want to miss this magic moment.
13. Attend Cultural Events at Sedona City Parks
Keep an eye out for free culture events that happen all year long in Sedona City Parks. From live music shows and art festivals to outdoor movie screenings, these events are a great way to get involved in the arts and culture scene in your area. Check the city's website or local event lists to see what's going on while you're there.
14. Visit the Sedona Public Library
Go to the Sedona Public Library if you want a quiet, cozy place to hang out. It's a great place for people who like to read and learn because it has so many books, magazines, and multimedia tools. Look through the books on the shelves, find a nice spot to read, and get lost in a good story or something that will teach you something. Keep an eye on the library's schedule for free author events, classes, and talks. These are all great ways to learn and grow.
15. Take in the Views at the Sedona Overlook
Visit the Sedona Overlook to see a wide view of Sedona's beautiful scenery. From this beautiful vantage point, you can see the red rocks, rivers, and the town below. You can take pictures of the beautiful scenery or just sit back and take it all in. It's the best place to enjoy Sedona's natural beauty without spending any money.
Additional Tips for Exploring Sedona on a Budget
Here are some additional tips to make the most of your budget-friendly adventure in Sedona:
1. Pack your own meals
While dining out in Sedona can be expensive, you can save money by packing your own meals and snacks. Take advantage of the picnic areas and enjoy a scenic outdoor meal amidst the natural beauty of Sedona.
2. Opt for free parking areas
When exploring the downtown area or popular attractions, look for free parking areas to avoid parking fees. Some locations may offer limited free parking, so plan your itinerary accordingly.
3. Utilize public transportation
Sedona offers a reliable public transportation system, including shuttle services, that can help you navigate the city without the need for a car rental. It's an affordable and eco-friendly way to get around and explore different attractions.
4. Seek out free events and festivals
Keep an eye on local event listings and websites to discover free events and festivals taking place during your visit. From music concerts and art exhibits to cultural celebrations, these events provide a wonderful opportunity to experience the vibrant spirit of Sedona without spending a dime.
5. Take advantage of free trail maps and guides
Many visitor centers and information booths in Sedona provide free trail maps and guides. These resources will help you navigate the hiking trails and ensure you make the most of your outdoor adventures.
6. Plan your visit during the off-peak season
Consider visiting Sedona during the off-peak season when accommodation prices tend to be lower. You can still enjoy the beauty of Sedona without the crowds and take advantage of discounted rates on accommodations and activities.
7. Connect with local bloggers and travel communities
Reach out to local bloggers or join travel communities to get insider tips and recommendations for free or low-cost activities in Sedona. These resources can provide valuable insights and help you uncover hidden gems.
Frequently Asked Questions About Exploring Sedona on a Budget
1. Is Sedona expensive to visit?
While Sedona does offer upscale resorts and amenities, it is still possible to explore the city on a budget. By taking advantage of free activities, packing your own meals, utilizing public transportation, and visiting during the off-peak season, you can have an affordable and enjoyable experience in Sedona.
2. Are there free parking options in Sedona?
Yes, there are free parking options available in Sedona. Look for designated free parking areas when visiting downtown or popular attractions. Keep in mind that these spots may be limited, so it's a good idea to plan ahead and arrive early to secure a space.
3. What are some other free attractions in Sedona?
In addition to the activities mentioned in the article, there are several other free attractions in Sedona. You can visit the Amitabha Stupa and Peace Park, hike the trails in the Oak Creek Canyon, explore the Sedona Wetlands Preserve, and enjoy the views from the Midgley Bridge.
4. Can I find budget-friendly accommodations in Sedona?
Yes, there are budget-friendly accommodations available in Sedona. Consider staying in motels, campgrounds, or vacation rentals to save on accommodation costs. Additionally, booking during the off-peak season or taking advantage of last-minute deals can help you find affordable options.
5. Are there any discounts available for paid attractions in Sedona?
Some paid attractions in Sedona may offer discounts or special deals, especially during certain times of the year. Check their websites, social media pages, or inquire with the visitor center to find out if there are any promotions or discounts available for the attractions you're interested in.
6. Can I experience the vortexes in Sedona for free?
Yes, you can experience the vortexes in Sedona for free. While there are paid vortex tours available, you can visit the vortex sites independently and immerse yourself in their energy. Popular vortex sites like Bell Rock, Airport Mesa, and Cathedral Rock can be explored without any entrance fees.