Bridgeport, Connecticut, often called "The Park City," is a hidden gem for travelers seeking a blend of history, culture, and modern attractions. Nestled on the Long Island Sound, Bridgeport offers a diverse range of activities to make your visit memorable. From museums to waterfront parks and unique experiences, here are 12 exciting things to do in Bridgeport, CT.
1. Webster Bank Arena
If you're a sports enthusiast or a fan of live entertainment, a visit to the Webster Bank Arena is a must. This state-of-the-art arena hosts a variety of events, including ice hockey games, concerts, and family shows. Check their schedule for upcoming performances and immerse yourself in the local entertainment scene. Consider purchasing tickets in advance to secure your spot at the hottest events in town. The arena's central location makes it easily accessible from anywhere in Bridgeport.
2. Captain's Cove Seaport
For a taste of maritime history and a scenic waterfront experience, head to Captain's Cove Seaport. This charming seaport features a marina, seafood restaurants, and boutiques. Take a leisurely stroll along the boardwalk, enjoy fresh seafood, or rent a kayak and explore the serene waters of Black Rock Harbor. Don't forget to bring your camera to capture the stunning views of the harbor. Captain's Cove Seaport is a haven for photographers looking to capture the beauty of the waterfront.
3. P.T. Barnum Museum of Circus History
Bridgeport is famous as the home of P.T. Barnum, the legendary circus showman. Explore the whimsical world of the circus at the P.T. Barnum Museum of Circus History. This museum showcases artifacts, memorabilia, and exhibits that celebrate Barnum's extraordinary life and his contributions to the entertainment industry. Check the museum's website for special events and guided tours for an in-depth circus experience. You'll gain a deeper understanding of Barnum's impact on entertainment and American culture.
4. Seaside Park
Address: 1 Barnum Dyke, Bridgeport, CT 06604
For outdoor enthusiasts and nature lovers, Seaside Park is a picturesque destination. This 325-acre park offers beautiful views of Long Island Sound, walking paths, picnic areas, and a sandy beach. It's a perfect spot for a relaxing day by the water or a family picnic. Pack a picnic and spend the day enjoying the scenic beauty of the park. Seaside Park is an ideal location for a leisurely day outdoors, with plenty of open space for recreational activities.
5. Blue Ox Axe Throwing
Looking for a unique and exciting activity? Try your hand at axe throwing at Blue Ox Axe Throwing. This fun and safe venue provide a thrilling experience for both beginners and experienced throwers. Compete with friends and see who has the best aim! Book your axe-throwing session in advance, especially during weekends, to secure your lane. Blue Ox Axe Throwing is a popular spot for groups and parties, so booking ahead is a wise choice.
6. Housatonic Museum of Art
Art enthusiasts should not miss the Housatonic Museum of Art, located on the Housatonic Community College campus. This museum features a diverse collection of art, including paintings, sculptures, and photography. It's an excellent opportunity to appreciate local and international art.
Check the museum's website for information on current exhibitions and visiting hours. The museum frequently hosts special events and art-related programs, making it a dynamic cultural hub in Bridgeport.
7. Connecticut's Beardsley Zoo
For a family-friendly adventure, visit Connecticut's Beardsley Zoo. This zoo is home to a variety of animals, including big cats, reptiles, and exotic birds. It's an educational and entertaining experience for kids and adults alike. Plan your visit during feeding times and animal encounters for a more interactive experience. The zoo also offers educational programs and camps for children, making it a fantastic destination for families.
8. Monger's Market
Address: 1155 Railroad Ave, Bridgeport, CT 06604
If you're a fan of vintage and antique shopping, Monger's Market is a treasure trove of unique finds. Browse through a wide range of items, from furniture to jewelry, and discover one-of-a-kind pieces to take home as souvenirs. Bargain hunters, be prepared to haggle for the best deals on unique antiques. Monger's Market is known for its eclectic mix of items, so take your time exploring the various stalls.
9. Klein Memorial Auditorium
For a dose of culture and the arts, check out the Klein Memorial Auditorium. This historic venue hosts a variety of performances, including concerts, theater productions, and dance recitals. Enjoy a night of entertainment and support the local arts scene. Check their website for upcoming shows and ticket information. The Klein Memorial Auditorium is known for its acoustics and intimate setting, providing a memorable experience for concertgoers.
10. Bridgeport & Port Jefferson Steamboat Company
Address: 330 Water St, Bridgeport, CT 06604
Take a scenic ferry ride with the Bridgeport & Port Jefferson Steamboat Company. This enjoyable cruise connects Bridgeport to Long Island, providing stunning views of the Sound and a relaxing way to explore the region. Arrive early to secure a good spot on the ferry deck for optimal views. The ferry ride is not only a convenient transportation option but also an opportunity to appreciate the beauty of the Long Island Sound.
11. Sacred Heart University Discovery Science Center and Planetarium
Expand your horizons at the Discovery Museum and Planetarium. This family-friendly institution offers interactive exhibits on science, technology, and space exploration. Explore hands-on displays, catch a planetarium show, and ignite your curiosity. Check the museum's website for information on special exhibits and educational programs. The planetarium often hosts astronomy events and stargazing sessions.
12. Ballpark at Harbor Yard
Catch America's favorite pastime in action at the Ballpark at Harbor Yard. This minor league baseball stadium is home to the Bridgeport Bluefish and hosts thrilling games throughout the season. Enjoy an afternoon or evening of baseball with family and friends. Check the team's schedule for upcoming games and promotions. Attending a baseball game is a quintessential American experience, and the ballpark offers a great atmosphere for sports fans.
13. The Adventure Park at The Discovery Museum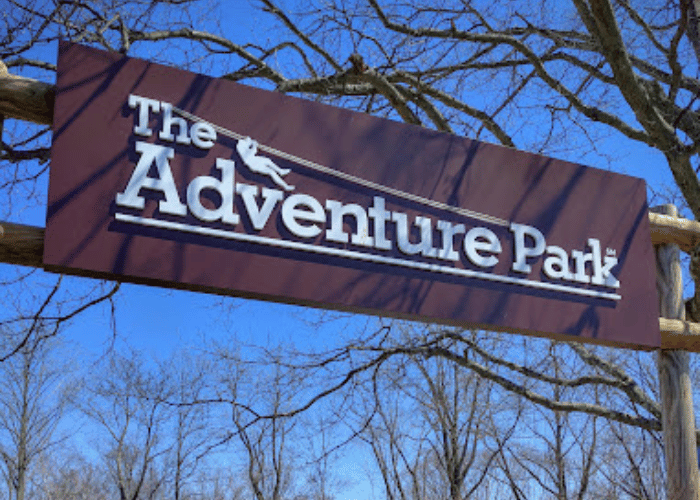 For adrenaline junkies and outdoor enthusiasts, The Adventure Park at The Discovery Museum is a must-visit. This aerial adventure park features a series of ropes courses, zip lines, and treetop trails suitable for all skill levels. Challenge yourself while enjoying breathtaking views. Make reservations in advance, especially during peak seasons, to secure your spot at the park. Wear comfortable clothing and closed-toe shoes for your adventure.
14. Ellsworth Park
Address: 100 North Ave, Bridgeport, CT 06606
Discover a serene oasis at Ellsworth Park. This neighborhood park offers a playground, walking paths, and a tranquil pond. It's an ideal spot for a leisurely walk, a family picnic, or simply unwinding in a peaceful setting.
If you have children, the playground at Ellsworth Park provides a great opportunity for kids to expend some energy and have fun.
15. The Bijou Theatre
Experience live entertainment at its best at The Bijou Theatre. This historic venue hosts a wide range of performances, including live music, comedy shows, and theatrical productions. Enjoy an evening of culture and entertainment in a charming, intimate setting. Check their website for the latest showtimes and ticket information. The Bijou Theatre often showcases local talent and emerging artists.
Tips to enhance your visit to Bridgeport, CT and make the most of your travel experience
Plan Ahead:
Before your trip, research the attractions and activities that interest you the most in Bridgeport. Check their websites for current hours of operation, ticket prices, and any special events or promotions. Planning ahead ensures you don't miss out on anything.
Visit the Local Visitor Center:
Stop by the Bridgeport Visitor Center when you arrive. They often have brochures, maps, and helpful staff who can provide additional information about the city's attractions, dining options, and upcoming events.
Explore Beyond the City Center:
While downtown Bridgeport offers plenty to see and do, don't hesitate to venture out and explore the surrounding neighborhoods. Each area has its own unique charm and hidden gems waiting to be discovered.
Sample Local Cuisine:
Bridgeport boasts a diverse culinary scene. Make it a point to try some of the local dishes and cuisines. Whether it's seafood by the waterfront or an authentic Italian meal in one of the neighborhood restaurants, savor the flavors of Bridgeport.
Engage with the Local Community:
Connect with the locals during your visit. Strike up conversations with residents, visit local markets, and attend community events if possible. Engaging with the community can provide a deeper understanding of the city's culture and history.
Conclusion
These are just a few of the exciting things to do in Bridgeport, CT. Whether you're interested in sports, history, nature, or the arts, Bridgeport offers something for everyone. Plan your visit to this vibrant city and create lasting memories exploring its diverse attractions.